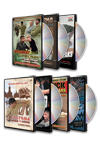 Combo Package - Any 7
Just got the 7 Dvds and absolutely loved them.
by Peng Lim, September 29, 2009
I learn a kind of Chinese Martial art that, but unfortunately we don't have any instructional dvds that I can watch and learn at home while I'm not at the training sessions. Thankfully with these Dvds, I get to review as well as learn from different perspects and explanations. It helps so much so I'm actually ordering another combo package. Thank you so much.


I am absolutely astonished by the quality of your DVDs and I would like to thank you for the swift handling of my order.
by Fabian Ramseyer, March 14, 2011
I started to watch some of your DVDs and I went through their content. I feel like I met something I was looking for a long time. Systema combines a variation of activities which I had to perform separately because there was no school that combined everything. We are going to study your art as good as possible by watching your instructions. And hopefully in near future we are able to visit one of your camps or seminars.